Customer Reviews
05/25/2022
Edward C.

United States
Love this product
I started growing out my beard again recently, and am in that awkward phase where there are a lot of scruffy, fly-away hairs. This product does a fantastic job smoothing them out, and it also adds a nice sheen to my mostly white beard. Plus, I love the subtle scent that's reminiscent of the Wolfsbane cologne from this same product line. I wish I had gotten this a couple of months ago and will be using it faithfully now moving forward.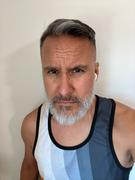 03/09/2022
Susan A.

United States
Wonderful Product
The best product I have purchased to date. Would definitely buy it again.
10/11/2021
Robert P.

United States
Royal Argon Beard & Hair Oil Review
Exceptional quality. This oil makes my beard feel and smell awesome. Service was on point, arriving in a timely manner. Excellent packaging. Would definitely purchase again when needed.
08/05/2021
Alexander M.

United States
Keeps my beard healthy
This quickly became my favorite beard oil. My beard is now growing in thicker and healthier with this amazing oil. Not to mention I'm loving the hint of Wolfesbane that just makes it all the more luxurious. Royal Argan is now my morning and evening goto beard oil...and I wouldn't have it any other way!
PHILANDRY
Royal Argan Beard and Hair Oil
ROYAL ARGAN BEARD & HAIR OIL is an intensely luxurious blend of the finest Moroccan Argan, Australian Baobab and Canadian Hemp Seed Oils, providing the deep conditioning to the beard, skin, the hair and scalp above, and the hair down there. We've scented it very lightly with just two notes from Wolfsbane to compliment and not compete.
30 ml ℮ 1 oz
HOW LONG WILL ONE BOTTLE LAST?
Approximately two months.
Using two pumps, once daily (in the morning), this bottle will last almost three months, with a shelf-life of approximately two years.
DIRECTIONS FOR USE:
A little goes a long way. We recommend 2-4 pumps for the beard (depending upon length and fullness), 1-2 pumps for the hair, and a pump for "down there". Work oil into full length of hair, and massage down to the skin.
NO CRAPPY INGREDIENTS:
Paraben Free
Propylene Glycol Free
Phthalate Free
No animal products
Cruelty Free
Gluten Free
Fragrance Free