Customer Reviews
07/17/2022
Alexander M.

United States
This stuff is great!!
Though I've never been the one to review lip balm, I just wanna save I love this stuff! Keep my lips soft and healthy throughout the day. Doesn't have that non absorbing feeling you get with regular drugstore brands. Hate that stuff because it just cakes on your lips. Nope, not this balm! It absorbs fully and last along time. Great scent and taste, and a little goes a long way. Highly recommend it!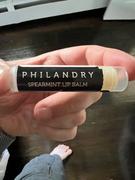 09/13/2021
Jose

United States
09/12/2021
Katie L.

United States
Best of the best
I'm so happy with all the products we have recently purchased. Alec and his customer service is out of this world. You feel like the man has knowledge to make all humans jump for joy when trying out a new product line. I can't wait to stock up on what I already use and look forward to trying something new each time! Thanks for all you help and love seeing this small businesses grow with the support of an amazing community.
03/11/2021
Thompson

United States
Better than Chapstick
I've officially changed over to this yummy balm from a lifetime of Chapstick. The smooth glide stays on without having to constantly reapply, and doesn't get tacky/sticky like other balms. Smells good too!
PHILANDRY
Organic Spearmint Lip Balm
ORGANIC SPEARMINT LIP BALM is smooth and long lasting, all-natural, organic and (like all PHILANDRY products) cruelty free and 100% vegan. Deeply moisturizing and nourishing with Organic Cocoa Butter and Organic Coconut Oil, it protects with Vitamin E and nutrient-rich Candelia Wax. Simple.
0.15 oz ℮ 4.25 g
NO CRAPPY INGREDIENTS:

• Paraben Free
• Propylene Glycol Free
• Phthalate Free
• Vegan, No animal products
• Cruelty Free
• Gluten Free
• Fragrance Free