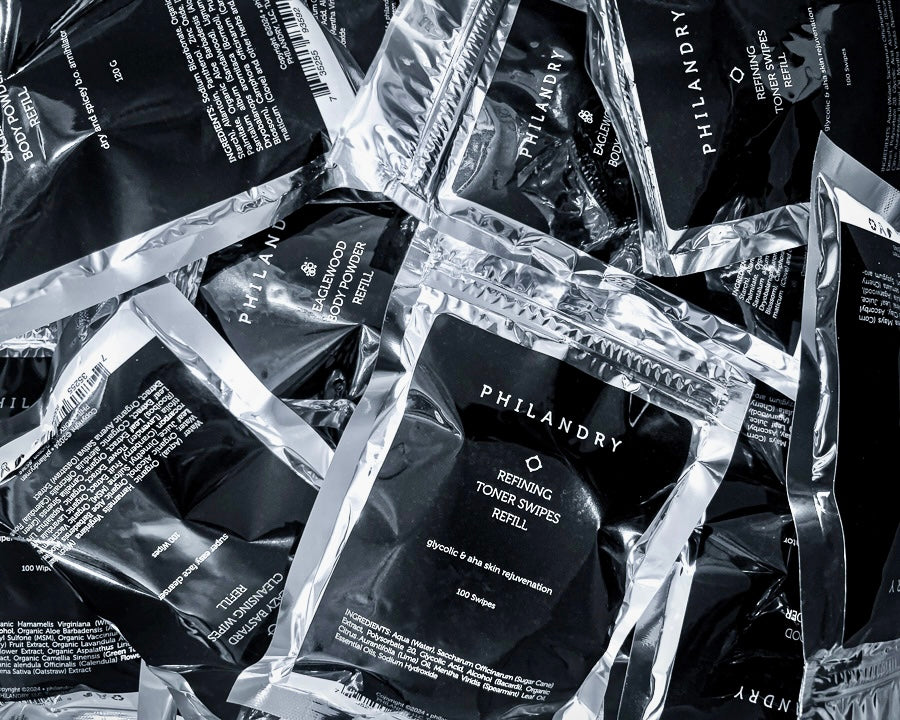 Introducing Refill Pouches: Sustainability Meets Savings
At PHILANDRY and LAUGHLIN MERCANTILE, the commitment to our customers goes hand-in-hand with our dedication to the planet. In a stride toward a more sustainable future without compromising on the quality of our natural skin and body care for men, we're excited to announce our latest eco-friendly initiative: refill pouches for select products in our line.
REDUCTION IN WASTE, NOT IN QUALITY
As a discerning gentleman, you understand the value of a well-crafted skin and body care routine. With our new refill pouches, we extend this value further by significantly reducing plastic waste and environmental impact. By opting for refills, you contribute to decreasing the demand for single-use packaging, thereby lessening your carbon footprint. It's a simple choice with lasting effects—not just for your skin, but for the earth.
SUBSTANTIAL SAVINGS WITH EVERY REFILL
We believe that making a sustainable choice should reward you in more ways than one. Our refill pouches are not only kinder to the earth but also to your wallet. Enjoy the same premium natural products at a substantially lower cost. The savings you'll make with each refill can add up to a significant amount over time, making luxury skin and personal care more affordable.
REFILLS AVAILABLE FOR THE FOLLOWING PRODUCTS
THE PERKS OF SUBSCRIPTION: MORE THAN JUST A DISCOUNT
Elevate your commitment to self-care and sustainability by subscribing to regular refill deliveries. Subscribers of PHILANDRY products enjoy a 20% discount, ensuring their favorite products are not only constantly at hand but also that they are purchased in the most economically and environmentally efficient way possible. It's the convenience you deserve with the conscientiousness the planet needs.
SIMPLE, HASSLE-FREE, AND EARTH-FRIENDLY
Using the refill pouches is a breeze. Simply replenish your existing PHILANDRY containers with our easy-to-use pouches and continue to enjoy your regimen without interruption. With this initiative, you become an integral part of a movement towards sustainability in the skincare industry.
In the world of PHILANDRY, where excellence in men's grooming meets environmental consciousness, every choice counts. Our new refill pouches are more than just an addition to our product line—they're a testament to our promise to you and the world we share. Join us in this exciting new chapter and make a difference with every refill.
Featured collection
Best Sellers