Customer Reviews
05/31/2021
Jerry S.

United States
Wolfsbane
I put off buying the large size...for too long.
04/28/2021
Ralph B.

United States
Wolfbane, Mesmerizing!
This awesome captivating scent accompanied my new tee from Alec's collection! The minute I tried on the tee, I knew I wanted this Fragrance!. Save yourself some time and order the tee and Wolfbane cologne!
04/24/2021
Jerry S.

United States
Wolfbane
Honestly, Alec sold me on this product by suggesting the trial size. Great scent, great product.
03/13/2021
John C.

United States
You need this in your life
It's hard to explain how wonderful this scent is. Masculine, outdoorsy but not at all overwhelming or too over the top. It is SO good. I get more compliments on this scent than any other I own. Easy to apply the right amount in all the right places with the roller design. I'm totally blown away.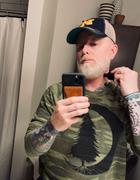 PHILANDRY
Wolfsbane
WOLFSBANE is a Men's Fragrance with a deep base of velvety old-growth Rare Woods, a trinity of fine Musk, Petitgrain with resinous Tobacco qualities, a leathery tone topped with a light high note of Bruised Neroli and the whisper of a fine gin, neat.
Vegan, contains no animal products.
Proprietary blend of fragrance, essential oils and natural absolutes.
Paraben Free
Cruelty Free
Phthalate Fre
AVAILABLE IN THREE SIZES
50 ml - Save by purchasing the large bottle ($95)
10 ml - Perfect size to throw into your pocket or bag ($35)
Fragrance sampler available ($8) 
DIRECTIONS FOR USE
The unique rollerball applicator can take a little getting used to, but once you get the hang of it you can easily and consistently control the amount of fragrance applied. Just tip the bottle, rather than turning it over. We recommend holding the bottle perpendicular or at just a slight angle to the area to where you are applying (wrist, neck, chest). If you want more fragrance applied, increase the angle. Less, decrease the angle. Holding the bottle upside down may apply much more than you want and cause spilling.