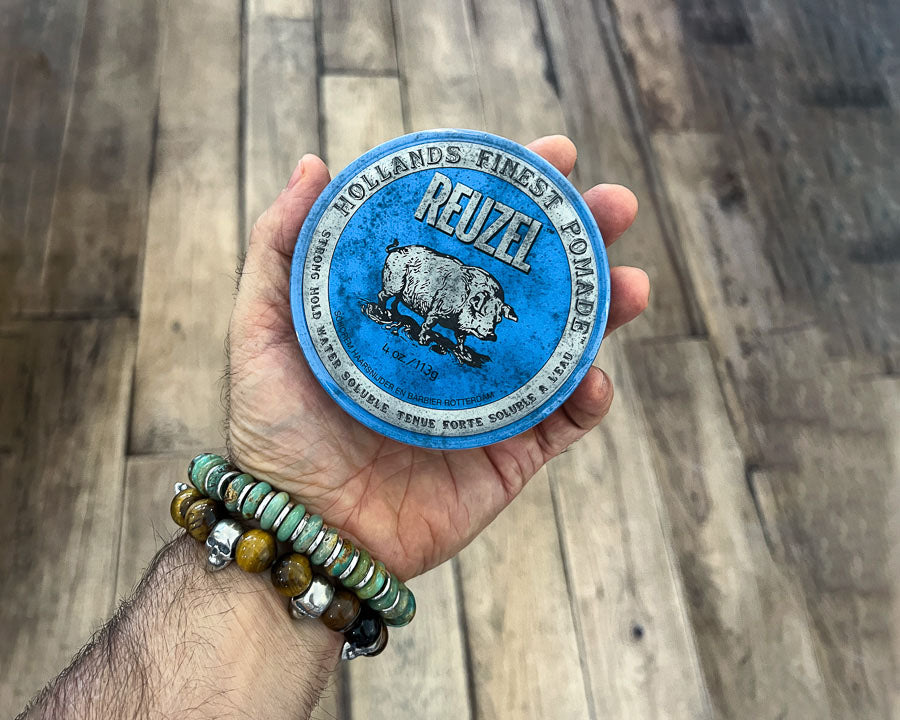 Mastering Style: Unveiling the Classic Elegance of REUZEL Blue Pomade
In the realm of men's grooming, finding the perfect hair product is akin to discovering an artist's masterpiece. It's a statement that speaks volumes about your style, confidence, and personal flair. At Laughlin Mercantile, we're excited to introduce you to a timeless classic that has been shaping men's hairstyles for decades – the REUZEL BLUE POMADE. Join us on a journey through the world of dapper hair styling as we delve into the elegance, versatility, and history behind this iconic hair pomade.
CRAFTING TIMELESS ELEGANCE
REUZEL Blue Pomade is more than just a hairstyling product; it's a work of art meticulously crafted to bring out the best in your hair. With a rich history rooted in traditional barbering, this pomade embodies the art of creating classic, well-groomed hairstyles that stand the test of time. Whether you're aiming for a sleek side-part, a textured quiff, or a slicked-back look, the REUZEL Blue Pomade lends a touch of sophistication to your style.
VERSATILITY IN YOUR HANDS
One of the standout features of the REUZEL Blue Pomade is its remarkable versatility. Designed to provide a medium hold and a subtle shine, it caters to a wide range of hair types and styles. Whether your hair is straight, wavy, or curly, this pomade offers control and manageability without sacrificing natural movement. You can easily switch from a polished office look to a relaxed evening style, all while maintaining that refined touch.
A GROOMING LEGACY
The REUZEL brand has deep roots in the world of grooming. Established by two renowned barbers, Leen and Bertus, in the heart of Rotterdam, Netherlands, it has garnered a cult following among grooming enthusiasts and professionals alike. The Blue Pomade is a testament to their commitment to creating products that combine traditional craftsmanship with modern innovation, resulting in a line of grooming essentials that are second to none.
How to Achieve Timeless Style:
1. Begin with clean, towel-dried hair for optimal results.
2. Scoop a small amount of REUZEL Blue Pomade onto your palms and rub them together to warm the product.
3. Apply evenly through your hair, ensuring even coverage from root to tip.
4. Style as desired, using a comb, brush, or your fingers to create the perfect look.
5. Admire your masterpiece as you step out with confidence and style.
In a world where style is a reflection of individuality, the REUZEL Blue Pomade stands as a steadfast companion for the modern gentleman. With its heritage, versatility, and impeccable craftsmanship, it offers more than just a hairstyling product – it's an embodiment of timeless elegance and self-expression. Elevate your grooming routine, embrace classic sophistication, and experience the art of hairstyling at its finest with the REUZEL Blue Pomade from Laughlin Mercantile.
Buy Now