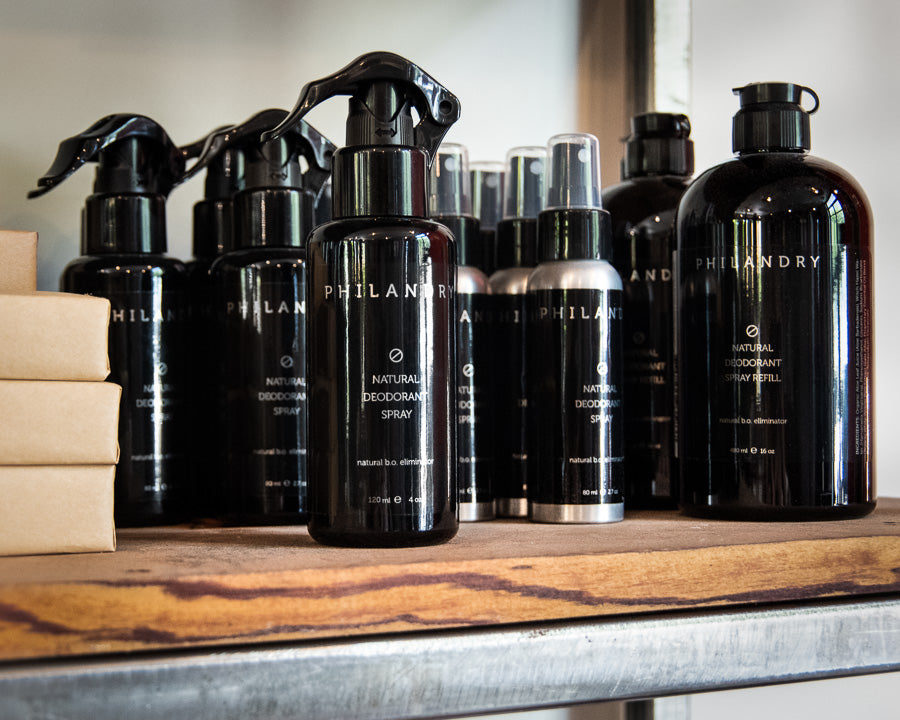 Nature's Finest: Natural Deodorant Spray for Men by PHILANDRY
At Laughlin Mercantile, we are dedicated to offering exceptional products that not only deliver outstanding performance but also reflect our commitment to sustainability and affordability. PHILANDRY's Fragrance-Free NATURAL DEODORANT SPRAY for Men is, frankly, a revolutionary deodorant spray harnessing the power of nature to provide effective odor protection without compromising on your health or the environment. Why revolutionary? It actually gets the job done. Join us as we explore the features of this remarkable product and how we managed to reduce its price, making it an eco-conscious and budget-friendly alternative to conventional deodorants.
THE POWER OF NATURE, GENTLE ON SKIN
The  Natural Deodorant Spray is a testament to the potency of natural ingredients. Crafted with care, it harnesses the benefits of plant-based extracts to combat odor-causing bacteria effectively. Gentle yet powerful, this deodorant spray keeps you feeling fresh and confident throughout the day without the use of harmful chemicals or artificial fragrances. It is thoughtfully formulated to suit all skin types, including sensitive skin, providing a gentle and non-irritating experience.
AFFORDABLE AND SUSTAINABLE SOLUTION
We believe that eco-friendly choices should be accessible to all. To achieve a more competitive price point, we implemented sustainable practices without compromising on quality. By streamlining our production processes and opting for more eco-conscious packaging, we were able to reduce the price of the Natural Deodorant Spray, now making it comparable to most conventional deodorants in terms of affordability.
AN ECO-CONSCIOUS REFILL OPTION
As part of our commitment to environmental stewardship, we offer an eco-conscious refill option for our Fragrance-Free Natural Deodorant Spray. By choosing the refill, you contribute to reducing plastic waste and your carbon footprint. The refill option allows you to maintain the effectiveness of your deodorant while making a positive impact on the planet. Embrace sustainability with every use and be part of the movement to create a cleaner, greener world.
CONFIDENCE IN YOUR CHOICE
With PHILANDRY Fragrance-Free Natural Deodorant Spray for Men, you can confidently embrace your natural scent while enjoying reliable odor protection. Say goodbye to harsh chemicals and synthetic fragrances that may harm your skin and the environment. Our deodorant spray empowers you to make an eco-conscious choice without compromising on effectiveness, providing the comfort of knowing you are making a positive difference.
PHILANDRY Natural Deodorant Spray for Men exemplifies our dedication to delivering exceptional products that align with our values of sustainability and affordability. Experience the power of nature as you embrace a fresh and confident feeling throughout the day. We are delighted to offer this remarkable deodorant spray at a reduced price, making it comparable to conventional options, while maintaining our commitment to quality and eco-consciousness. Embrace nature's finest with our Fragrance-Free Natural Deodorant Spray for Men, and take the first step towards a more sustainable and refreshing daily routine.