Customer Reviews
06/12/2021
william n.

United States
The best yet
Never was planning to grow a beard but working from home seemed like a good time to stop shaving, it's a heavy beard, and once in came in…I didn't know how to take care of it. Tried many products until I discovered Alec Laughlin's products. I think they are so great I am expecting I'll be looking like Alec's twin in a few weeks! In all seriousness, Laughlin Mercantile products are the best of the best. Thank you Alec!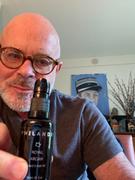 PHILANDRY
Beard Care Set
BEARD CARE SET includes the basics you need to take care of that handsome mane. With the Universal Shampoo Bar, you can be sure that your beard is clean and fresh, without stripping it of it's natural oils. Keeping it soft has never ben easier with the Ultimate Beard Conditioner. Topping it off with the right shine, protection and manly scent, Royal Argan Beard & Hair Oil. This is the stuff.
Purchased separately, these items total $87. As a set, receive 10% OFF.