Customer Reviews
06/09/2022
Stephen D.

United States
Everything I've Ever Wanted in Deoderant
It's simple: it works. And on top of that, it's truly unscented. It does not irritate my skin, make my skin peel, or burn. It is an excellent product. Customer for life.
11/14/2021
John N.

United States
5 Star Product - Natural Deodorant Spray
I love this product & have been using it for a couple of years now. It is 100% effective and for someone with sensitive skin it is great.
09/23/2021
Berit

United States
Most Effective I've Ever Use
I feel that I've pretty actually summed things up, this is the most effective deodorant I'v ever used. It is currently 90+ degrees in LA and this product is working flawlessly. It has a very neutral and subtle sent that won't interfere with any additional sentences you wear. The application is easy and pleasant. I also appreciate that this is a refillable product! I would 100% recommend this product!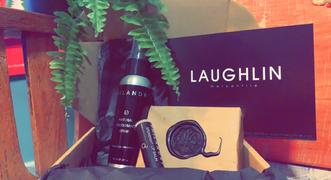 06/18/2021
Doug H.

United States
Great Product
I've been using the Natural Deodorant Spray for about a month and have already ordered the refill. I've had trouble in the past with regular deodorants irritating my skin, so I'm really happy to have found this product. It doesn't totally cover my natural scent, but that's partly why I like it. It seems to work with my body to control the odor rather than stopping the natural process with chemicals. Much thanks to Laughlin Mercantile for being a business that cares about its customers and operates with honesty and integrity.
PHILANDRY
Natural Deodorant Spray
NATURAL DEODORANT SPRAY is natural and legit effective. Conventional deodorants and antiperspirants are freaking gross and full of harmful chemicals. Even if they keep you from stinking through the day, they eventually soak into the pits of shirts resulting in ruined clothing and often throwing out otherwise perfectly good garments after a few short months.
And even when they claim to be, "unscented," they invariably have some weird artificial fragrance. And all of the natural deodorants that we tried over the years just didn't cut it. So for months, we mixed up concoctions in the studio until we came up with something that really worked.
80 ml ℮ 2.7 oz ($12.75)
REFILL BOTTLE, 16 oz
Reduce waste, refill and save. Refill six of the regular size bottles with this 480ml refill bottle of Natural Deodorant Spray for the price of four regular size bottles.
480 ml • 16 oz Refill ($57.50)
please note that this does not come with a sprayer but is a refill for the regular 80ml bottles that come with a sprayer.
SPECIAL NOTE:
Some folks may find that there is a bit of a process when switching to a natural deodorant. There can kind of be a rebound and detox that the body needs to go through. So if the Natural Deodorant Spray doesn't work super well for you the first several days, persevere. The feedback received is that is seems to work great for most folks right away. But give it a week or two if you've been using conventional deodorants and antiperspirants for a long time.
DIRECTIONS FOR USE: 
Shake well. After bathing, spray under the arms—maybe rub it into the hair and skin. Revel in the fact that it is natural, it is effective, it won't irritate, it won't cause pit stains and ruin your favorite shirt, and it won't compete with the sexy aroma of Wolfsbane or Solstice that you douse yourself in after. Please note that this is not an antiperspirant.
NO CRAPPY INGREDIENTS:
Paraben Free
Aluminum Free
Propylene Glycol Free
Phthalate Free
No animal products
Cruelty Free
Gluten Free
Fragrance Free