Customer Reviews
08/22/2021
Arthur R.

United States
The blissful feel of hemp.
Alec is charming and his passion for good design a breath of fresh air. I particularly love the hemp products, as I've long been a fan of the feel and durability of that particular fabric. Highly recommended.
04/28/2021
Anthony T.

United States
Game changer
Hands down my new favorite tee! It's safe to say I'm obsessed with it. The fit and softness of this tee is unlike any others I have in my wardrobe.
04/23/2021
Dennis H.

United States
Great shirt
The combination of hemp and cotton resulted in a very soft fabric. The fit is great. I highly recommend the shirt and plan to buy another one. --Dennis, New Mexco
04/23/2021
Larz

United States
The Search for the Perfect Tee is OVER
The Hemp Tee is comfortable, stylish, affordable, and overall a quality garment. This feels like one of those tees that will last a lifetime and only get better with time. The tee is so soft and thin yet the material is really high quality and sturdy. It just feels GREAT! This tee is way better than other shirts I've purchased from well known brands. The fit is perfect too! I love that I can support a local AZ company! Buy this shirt now!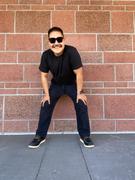 Alec Laughlin
The Hemp Tee
THE HEMP TEE is not your average tee, but made with hemp and organic cotton. Super soft, while the hemp gives it a little bit of an earthy texture. I don't know how else to describe it. A super lightweight and breathable fabric, you can see through it a bit when held up to the light. The last photo detail is meant to illustrate the loose and light knit of the fabric. We've placed it on a super bright photo lamp in the studio.
Very flattering drape against the body, soft to the touch, roomy enough for broad shoulders and chest. The length is a little shorter than The Everyday Tee, falling just below the belt line on most, looking sharp un-tucked (it won't cover your assets) or the half-tucked look when you want to show off your favorite belt with just a peek.
A personal favorite for active days outdoors, hiking and camping.
THE FIT
A slightly more relaxed fit and shorter drape than The Everyday Tee. Leaner than a traditional fit tee while good for broad shoulders and chest. Snug, but not tight on medium to large arms. This item will shrink a bit with the first wash and tumble dry. 
THE FABRIC & CONSTRUCTION
55% Hemp / 45% Organic Cotton
Turn-back double-needle hem
¾" ribbed collar
Light knit, breezy and breathable
Made in USA
CARE
Wash inside out in cool water, with like colors, low tumble dry low or hang to dry, no iron. If you wish to retain size with zero shrink, wash in cold and hang dry.